Date 09/07/23 | Time: 17:45:28 UTC | 40.83; 14.147 | Depth: 2.5 km | Mb 3.8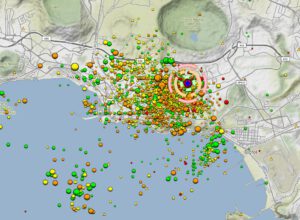 Yesterday, there was an earthquake in the Campi Flegrei Caldera with a magnitude of 3.8. The earthquake's epicenter was at a depth of 2.5 km. The earthquake occurred near the northeastern crater rim of Solfatara, close to the thermal area of Piscarelli, and triggered an aftershock sequence with 30 subsequent earthquakes. These aftershocks mostly had low magnitudes in the microseismic range.
The main earthquake was felt in Pozzuoli and parts of Naples. EMSC received reports from people located 16 km away from the epicenter who felt the tremor. For those living closer, the earthquake was strong and frightening, but there are no reports of damage.