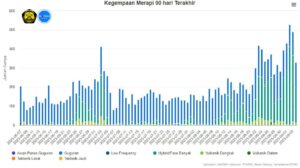 The seismic activity at Mount Merapi in Indonesia has reached new peak levels. On September 2nd, there were 407 hybrid earthquakes recorded, followed by approximately 348 of these tremors detected the following day. These are record values that are rarely reached and indicate fluid movements beneath the volcano. It is expected that the growth of the volcanic dome will continue in the coming days and could potentially intensify.
In addition to the numerous hybrid earthquakes, other volcano-tectonic tremors have also been detected. Yesterday, 129 seismic signals indicated rockfall avalanches, increasing the risk of pyroclastic flows.
In their latest weekly report, researchers from BPPTKG explain that there have been morphological changes in both domes growing inside the volcano's crater. The most significant changes were observed in the southwestern dome. The volume of this dome was 2,858,600 cubic meters, compared to 2,764,300 cubic meters measured the previous week. Despite some reductions, the dome has slightly increased in size. The central dome, on the other hand, experienced a decrease in volume. It had a volume of 2,355,100 cubic meters, indicating potential collapses or shrinkage processes due to the cooling of the magma inside the dome.