Date: 30.11.22 | Time: 10:47:59 UTC | 38.84 S ; 175.91 E | Depth: 9 km | Mw 5.4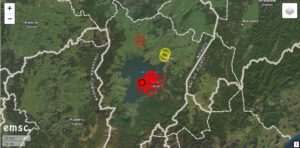 Yesterday there was an earthquake of moment magnitude 5.4 (Ml 5.6) under the Taupo caldera in New Zealand. GeoNet published more information about it today. The earthquake manifested at 10:47:59 UCT. In New Zealand, it was 11:47 p.m., which is night-sleeping time. So also the residents of the caldera were startled out of their sleep when they were shaken hard. But it didn't stop at one shaker, as there was minor damage as items fell off shelves and some roof pieces came crashing down from a store. There were more than 180 aftershocks, 30 of which could be felt. The strongest aftershock brought it to M 4.5.
The main earthquake was the strongest since an M 5.0 earthquake in 2019, and an increase in seismicity has been observed under Lake Taupo since May 2022. Volcanologists believe the series of earthquakes is caused by activity related to magma and hydrothermal fluids inside the volcano. This activity could continue with varying speed and intensity in the coming weeks or months.