State: USA | Coordinates: 18.13, 145.80 | Eruption: Fumarolic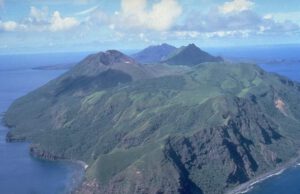 Pagan volcanic island is currently under evacuation. The reason for the measure is increased seismicity. Some earth tremors could be felt by the inhabitants. In addition, the volcano emits a cloud of steam, which also contains some volcanic ash. Volcanologists fear an imminent volcanic eruption.
Pagan is a small island in the Pacific Ocean, which belongs to the archipelago of the Marianas. Precisely, the island consists of 2 stratovolcanoes that formed in a caldera. The volcano is monitored in close cooperation between the local authorities and the USGS. The alert status was raised to yellow. 2 ships were dispatched to evacuate the residents.