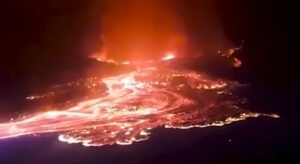 Currently, media reports are doing the rounds, according to which the volcano Nyiragongo in Congo has erupted. Eyewitnesses describe high "flames" shooting out of the volcano. Photos show a red illuminated night sky above the volcano's flank. Many residents of the city of Goma are fleeing in panic toward Rwanda. They fear that a lava flow could reach the city and leave a new swath of devastation, much like what last happened in 2002.
Local volcanologists have been warning for months that a flank eruption could occur. a team is on its way to the volcano to investigate the situation in more detail. According to initial statements by the researchers, there has not been a stronger earthquake. This would speak against a large fissure formation and the leaking of the lava lake, because such a process would have to be reflected on the seismometers, if there are any.
Some voices suggest that the eruption could also occur at the neighboring Nyamuragira volcano. It had last erupted in 2011 in the lower flank area. MIROVA yesterday detected a slight increase in thermal radiation with 1600 MW power, but new values should come in soon, which would allow a more accurate attribution.