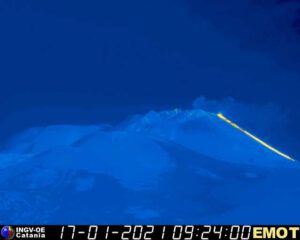 This morning, Sicilian Etna shows her effusive side and erupts a lava flow. It is bubbling from a vent at the very east of New Southeast Crater and almost reaches the base of the cone at 3000 m altitude. One can follow the action via livecam. The tremor is clearly elevated and is in the lower red range.
INGV reports that the strombolian activity at New Southeast Crater has decreased, probably due to the effusive eruption. However, the two central craters continue to be lively.
Last night, another M 3.2 earth tremor occurred on the lower north flank at Monte Collabasso. The depth of the hypocenter was 17.2 km. It remains exciting at the most powerful volcano in Europe!