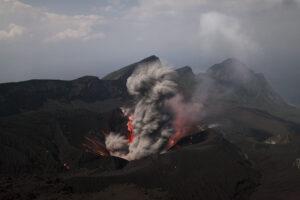 The Japanese island volcano Suwanose-jima is in top form. In the last 24 hours, the VAAC Tokyo issued 10 reports of ash clouds emanating from this volcano. The ash reached an altitude of 2400 m above sea level and drifted in a north-westerly direction. The ash is likely to be erupted during strombolian activity, although volcanic eruptions may also occur.
Local volcano observers today report 2 stronger eruptions in which volcanic ash rose almost 2000 m above crater level. The first eruption occurred at 14:49. The second eruption was recorded at 04:52. Here, the JMA report states that during this eruption a larger volcanic bomb was produced, which landed about 600 m away from Mitake Crater. It warns that bombs could be falling within a 1 km radius of the Mitake. Ash fall was observed in a village 4 km away from the crater. At night, red illuminated clouds were seen over the crater. The photo is from the archive of Thorsten Böckel/Martin Rietze.
Since August 14th some volcano-tectonic earthquakes were registered. Already in December 2019 slight inflation set in. The alarm status is set to "2".