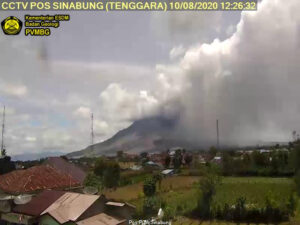 On the Indonesian island of Sumatra the Sinabung erupted again. The VAAC Darwin published a VONA message, after which volcanic ash rose to a height of 9800 m. The cloud drifted in a westerly direction. In time a second cloud reached a height of 4200 m and was multiplied in eastern direction.
The volcanologists of Magma/VSI registered increased seismic activity the day before. Among the signals was a Tornillo. They detected the eruption in 2 signals with maximum amplitudes of 120 mm and 1785-2246 seconds duration. Although the eruption cloud rose higher than during the last eruption, there must not have been a much higher energy behind it. Weaker winds may have favoured the vertical rise of the volcanic ash to higher altitudes. The seismic signals indicate an eruption similar to the one on 8 August. In fact, the main eruption lasted longer than now.
The seismicity was increased in the first quarter of the day. There were 19 volcano-tectonic tremors recorded. Another Tornillo was also recorded. Tremor also occurred. In fact, it looks like the sinking has entered a new eruptive phase.
Erupsi #Sinabung 10 Agustus 2020 10.16WIB https://t.co/TuGNOVdDhe pic.twitter.com/EcTnTeSzxF

— MAGMA Indonesia (@id_magma) August 10, 2020